Shopaholic: Survey finds men use smartphones more for shopping and buying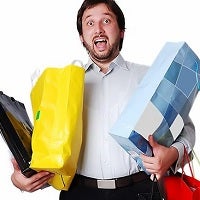 Guys may groan at the thought of going to the mall with their significant others, but when it comes to shopping and buying on their smartphones, guys know how to go on a spree.
A survey conducted by Interactive Advertising Bureau (IAB) and Verizon of 2,013 adults found that there is a wide gender difference when it comes to shopping and buying via a smartphone.
Three quarters of male respondents aged 18-34 shop using their smartphone at any given time during a month whereas only 59% of women in the same age group responded likewise. That demographic as a whole is also the big spenders when it comes to buying stuff on mobile. 39% of the 18-34 year olds spend at least $51 or more per-month through mobile shopping versus 27% of the survey group as a whole.
Overall, computers still prove to be the technology of choice for the majority of online shopping, but mobile devices are used for a lot of shopping research, with 40% of those surveyed they do that more often.
IAB's interest in this behavior is obviously so more relevant and pervasive advertisements can be targeted more effectively. The perfectly timed ad may help make the sale whether it is shopping during the holidays or any other time of the year.
source:
Tech2