Sharp's 1080p 5-inch smartphone display demonstrated (pictures)
40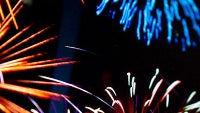 Just yesterday we saw
Sharp kick off mass production
of its 5-inch 1080 x 1920-pixel screen, with a whopping pixel density of 443ppi, and now we get to see how that amazing display looks in real life and the stunning amount of detail you get to see on it. Sharp is demonstrating its screen at CEATEC 2012 and it explains it is using continuous grain (CG) silicon TFT and not its own home-grown IGZO transistor process.
And early IGZO prototypes are even more impressive. The technology enables the production of 6.1-inch displays with a pixel density of 498ppi, that will make reading on a mobile device extremely close to the experience you get reading on a book.
Interestingly, Sharp explained that it picked CG (the older technology) because it still has some advantages over the newer IGZO. It has a lot to do with response time which is higher on CG and with how much quicker the company can kick off mass production of the well known CG displays.
Finally, Sharp seems to definitely have one of the most impressive displays out there, along with an upcoming
1080p screen by LG
. Check out the images below to see for yourself.
source:
TheVerge
All images courtesy of TheVerge.