Sony defends not going QHD with the Xperia Z3
99+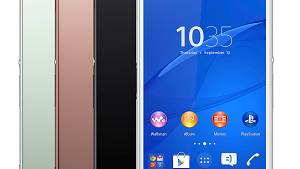 Calum MacDougall, Director of Xperia Marketing at Sony, has come out to defend the omission of a Quad HD (also known as 2K) screen on the upcoming
Xperia Z3
that some rival handsets already offer. For example, the
LG G3
sports a 5.5-inch display with a 1440x2560 pixel resolution, giving it a 534 ppi density. The
Samsung Galaxy Note 4
has a 5.7-inch display with 515 ppi density. In contrast, the Z3 will have 424 ppi with its 1080x1920 resolution and 5.2-inch display.
Acknowledging the competition, MacDougall went on to say,
"we have made the decision to continue with a Full HD, 1080p screen for the Xperia Z3, although we see in the marketplace some of our competitors bringing in 2K screens."
However, he also said,
"we think of this size of screen, even up to 8-inches, they are relatively small screens and it is very difficult for the human eye to discern the difference between 2K and Full HD."
In his further comments, he spoke about the motivations for this choice, focusing on battery and user experience.
"Thinking again about user-motivated innovation, we see from the user experience point of view that the differences are minimal, particularly if you add on top our Sony TV technologies which are reason number two."
The TV technologies in question are the X-Reality for mobile and the Triluminous display, which improve the brightness and color reproduction of Sony's mobile device displays. These technologies are based on advances made by Sony in the TV industry.
Sony believes the most effective argument for consumers might be the battery life. MacDougal cites battery life of up to two days in his comments, which is an excellent achievement. Hoping most consumers would likely prefer a smartphone with a longer battery life than what is essentially a marginally better resolution, Sony is betting on this hedge.
source:
TrustedReviews