Another death by selfie: 14 students washed by a high tide while posing for pictures
24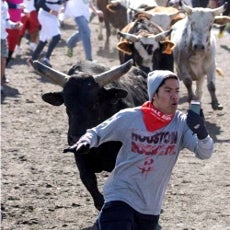 The
"death by selfie" incidents
are starting to reach epidemic proportions, with psychologists scrambling to explain how today we are living in the virtual as much as in the physical world, and oftentimes find it hard to distinguish between the two. Nowhere is that trend more pronounced than in doing dangerous stunts just to take that selfie or footage to post on your social media or video account for the proverbial 15 minutes of fame.
The trend seems to have started from those Russian kids climbing to the top of cell and TV towers, bridges and other extremely high structures to do some stunts and make a footage out of it. While these may have been peculiarities of the Russian macho psyche to constantly prove your bravery (or idiocy, if you ask the parents), and the Russian authorities have been
warning about such stunts for a while now
, the trend still quickly caught on, leading to more and more dangerous undertakings.
We are now up to the point where
taking extreme selfies killed more people than sharks
last year, and, judging from the news that came out of India yesterday, this year might be worse. A group of students from a Pune college apparently has ended up drowning while taking selfies in dangerous conditions while on a daylong picnic from school. About twenty of the students ventured into the water at Murud beach to take selfies, despite warning of a high tide, and 14 drowned, washed in by a big wave, while six were saved in the subsequent rescue operation. Here's the harrowing recount from one of the survivors in the next of this long line of "death by selfie" incidents:
We reached Murud around 11 am. Though many of my classmates and other students wanted to swim, faculty members suggested doing so after visiting the fort and other tourist spots. We returned to the beach at 2 pm. While we decided to play at the beach, several of my friends ventured into the sea to click pictures and selfies. Around 3.30 pm, huge waves began lashing the beach. It was lunchtime, so all those who wanted to eat, gathered near the bus to collect their tiffin boxes. While those who were playing in the water, continued to do so. Before anyone could realise, a huge wave lashed the shore and pulled our friends deeper into the sea. Several others jumped into the sea to save them. Those who were pulled out were transported to the hospital on handcarts and in horse-carts, as the place lacked vehicles.