Sex maschine - Lovely is a wearable for sex performance metrics, and you'd never guess where it's worn!
73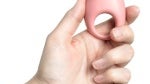 What's made of medical-grade silicon, wraps around your
ba-donk-a-donk
ding-dong and talks to your smartphone? Why, it's nothing short of Lovely, the latest wearable gadget that's trying to rouse some crowdfunding attention at IndieGogo.
The potent wearable is said to pack all the needed sensors to analyse the male wearers' bedtime athleticism, along with a vibration motor to give their partners the best of both organic and synthetic examples of sexual gratification tools.
The data parsed by the connected smartphone app will help Lovely's users attain peak performance. It measures g-force (eh?), top speed, burned calories, move count, and comes up with personalized tips about problem areas where you can improve. Think of it as AnTuTu for your man cannon... nice, huh?
These
essentials
aside, the app comes with a thesaurus of sexual positions that lists at least 120 different ways of doing the deed. They don't teach that kind of stuff in sex-ed classes, do they?
Anyway, Lovely seems to be the closest thing to a wearable that literally turns coitus into a type of sports, complete with monitoring and metrics. Bragging to your friends in the pub is one thing, but showing them the cold, hard data on your phone as proof is another thing altogether!
If everything goes to plan, Lovely will ship in June 2016 at $99 for the base model. Stay tuned for the PhoneArena review!