Seton Hall freshmen get their Nokia Lumia 900 handsets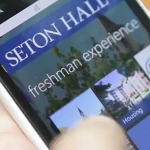 given a Nokia Lumia 900 for each student entering the school
for his/her first year. It's part of the school's
mobile computing initiative
which has seen the school hand out the Apple iPad, Android tablets, Nokia handsets and the Amazon Kindle Fire in previous years. The ideas is to give the students whatever tools will help them achieve success at the the University and in the real world after they graduate.
AT&T, which has the exclusive rights to the handset in the U.S., and the University, have finished handing out the Windows Phone handset and for the most part,
the students are happy
. The units that the freshman received are loaded with the Freshman Experience, software which adds customized social media integration and direct communications to other freshman, academic advisors, housing information and roommates. During Orientation, a special class helped the students learn how to take advantage of the features offered by the Nokia Lumia 900. For many in the Class of 2016, it is their first smartphone.
source:
WMPoweruser