Sesame Street teaches kids about "There's an App for That"
3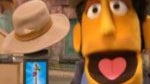 Kids are subjected to a wide variety of high-end gadgets out there, but it's almost amazing nowadays to see how they're so able to quickly adapt to these sometimes considered complex devices all on their own.
Well, it looks like Sesame Street is doing their part in making aware all of the wonderful things that the iPhone, er the iPogo, has to offer in terms of features. Aside from the obvious things, Sesame Street sings a song about "there's an app for that" during a small skit that showcases all of the wonders this iPogo is able to accomplish. The catchy song is filled with remarkable things it's able to do with all the various apps for it – even going as far as saying as "doing anything."
However, it'll be interesting to see what happens when Apple finally stumbles upon the video to see their famous trademarked slogan being used in the song. Well, maybe there's going to be an app for the iPogo that'll stop Apple from moving forward with any legal action?
via
SlashGear
Recommended Stories