See how Samsung tested the Samsung Galaxy S5
47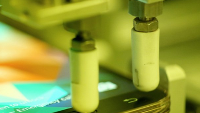 Before Samsung releases its new flagship phone today, the device had to undergo some internal testing to make sure that the handset could survive the every day things that can happen to a smartphone. For example, the
Samsung Galaxy S5
needed to be able to survive against drops. Everyone drops their smartphone and Samsung tested the Galaxy S5 using a machine that can drop a smartphone from a variety of heights and angles. Using a high-speed camera, Samsung was able to judge what areas of the phone needed to be bolstered so that it could survive someone with butterfingers. Believe it or not, Samsung also tested the Galaxy S5 against static electricity. In the worse case scenario, even a static shock could destroy a smartphone.
To test the potential wear and tear on the phone's physical and capacitive buttons, a machine pressed down on them repeatedly, to make sure they could stand up to the daily grind. The volume of the speaker is tested as well as the sensitivity of the microphone. The audio test is conducted differently depending on region. For example, a Samsung Galaxy S5 headed for an Asian market is given a different sound test than a model headed elsewhere. The theory is that each region has different noise levels.
Another room, filled with different colored foam, measured the radiation that is emitted from the device, to make sure that it stayed within regional regulations. Another machine tested how well the Samsung Galaxy S5 resisted dust, potentially a long-term killer of any non-protected phone. And thermal cameras made sure that the phone didn't run too hot when performing certain tasks.
These are just a few of the tests that the Samsung Galaxy S5 had to go through to get into your hands. These tests make sure that the phone runs smoothy, safely, and does what you need it to do. Check out the pictures of the machines that Samsung used to test its flagship, by viewing the slideshow below.
source:
BusinessInsider