Second generation Nexus 7 tablet shipping this month with a high-res display made by AUO
26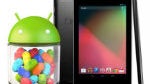 Google's I/O
was a big snoozefest when it came to hardware announcements. We didn't even get to see the new Nexus 7 tablet, let alone the Nexus or
Motorola X
phones. We get that Google is going back to the original I/O roots as an event for devs focused on its ecosphere, but being hardware geeks were also a bit disappointed.
Oh well, the upside is that the big announcements are yet to come, and Google wants to spotlight its hardware at dedicated events, just like everyone else is doing now. First in line for announcement seems to be the second generation of Google's 7" tablet that last year totally turned the table for Android slates, selling truckloads, and part of the reasons for the shrinking market share of the iPad franchise.
Supply chain sources have hinted that the panel for this year's 7-incher from Google and Asus are already being made by AU Optronics, the same guys that have reportedly
landed orders for the next-gen iPad mini
. The second iteration of the Nexus 7 tablet is expected to be announced by the end of this quarter, and feature a 1920x1200 pixels low-temperature polysilicon (LTPS) display. The assemblers are to begin shipping the first batch to warehouses, the sources mentioned, and one million units are expected to ship by the end of this month.
Commercial availability is said to arrive in the summer, with
July bandied about before
, so we are looking at a scheduled event in the next few weeks to announce the tablet -
eight million units
have reportedly been ordered in total to assemblers for 2013, so Google is evidently prepping for another blockbuster tablet hit on its hands, and no wonder, given the Nexus line pricing.