Screws off! ZTE CEO teases sleek ZTE Axon 2 with no visible screws at the bottom
19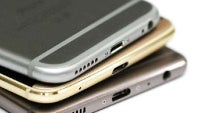 Tired of metal smartphones with screws at the bottom? Err... Well, we suppose that these could be a minor annoyance for very, very few of you. Turns out that China's ZTE thinks we need no screws at the bottom of our future smartphones. The company's CEO, Zeng Xuezhong, just teased an image of the upcoming ZTE Axon 2 compared with an iPhone 6s and the new Huawei P9, which reveals the 'screw-free' bottom of the new Axon.
It does look sleek and uniform, but we are not exactly sure how many of you were holding their breaths for such a design innovation.
As a reminder, a fortnight ago we got a rather good look at what is expected to be the ZTE Axon 2. As it often happens,
leaked images from China's TENAA regulatory agency
revealed the front and the rear of the sequel to the not-too-shabby ZTE Axon. From the looks of it, the ZTE Axon 2 will be succeeding the pleasing design language of its predecessor. We have no gripes with that.
Design aside, the ZTE Axon 2 is expected to boast a 5.5-inch Quad HD display, a Snapdragon 820 chipset paired with 4 gigs of RAM, 64GB of native storage + a microSD card slot, as well as a 20MP rear / 8MP selfie cameras. We suppose that after it becomes official later this year, the second-gen Axon will be available in the good ol' US of A, just like its predecessor and its multiple variants.
Recommended Stories