Screen comparison of Sony Xperia Z vs HTC Butterfly shows almost perfect calibration by HTC
65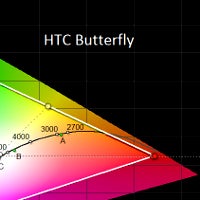 If you are a screen purist, you will be interested in color calibration, viewing angles and contrast ratings a bit more than whether your mobile screen is HD or Full HD, where, for all practical purposes, the difference is negligible from a normal viewing distance.
In those three important categories the 5" Full HD 1080x1920 pixels screen of the
Sony Xperia Z
loses significantly to the
HTC Butterfly
, which is an
HTC Droid DNA
for the rest of the world, and the first smartphone announced with a Full HD display.
HTC, it seems, has done an
iPhone 5-like job at screen calibration
, as you can see in the last chart of the slideshow below, reaching an almost perfect color gamut representation and
true white
, whereas the Xperia Z boasts wider sRGB gamut than the standard, oversaturating the colors a bit, and displaying a "colder" 7500K white in comparison with the 6500K of the HTC Butterfly.
Not only this, but the tests also showed that HTC's handset, despite its lower 385 nits brightness, compared to Sony's 400-440 nits, depending on the screen area measured, has a
higher contrast rating
of 1153:1, against the Z's 570:1, which makes black appear grayish. The higher contrast and better reflective coating also make the HTC Butterfly more visible in direct sunlight than the Xperia Z.
When we add the
viewing angles
which you can see are inferiour on Sony's flaship without any specialized equipment, the best 5" Full HD title is going to HTC's screen calibration efforts, whereas Sony shows again that there's something to be desired from the screens with its Mobile BRAVIA Engine tech for some reason, regardless of how high their
pixel
density is - we had the same viewing angle issues with all its flagships last year.
A very small percentage of users are screen purists, though, so if we put the Z's other virtues in one place, it would still tip the scale in its favor, but Sony should take note and improve the screens on its high-ends going forward anyway.