Scooch, Echo: creepy US-bound assistant traps a virtual girlfriend in a $2600 Gatebox
11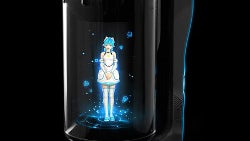 While voice-controlled virtual assistants like Siri, Cortana or Google Now never took off as the Silicon Valley giants hoped, Amazon struck a surprising gold with its household one, the
Echo
. It turned out that nobody wants to chat in public with their phone, but there are no such qualms within the comfort and privacy of your own home.
Amazon has so far sold more than 5 million of the Echo contraptions, and even issued a smaller, cheaper
Dot
version that may prove even more popular. This experiment proved a success, and, needless to say, all the big names soon followed suit with home-bound virtual butlers of their own. Google outed its
Home
gizmo, while Apple and
Microsoft
are rumored to be working on similar projects.
Leave it to Japan, however, to take the trend to a whole new level, twist it, and come out with something that may look creepy from an outsider perspective, but makes perfect sense in Japanese society. Yes, we are talking about a virtual girl... in a jar... that wakes you up, can't wait for you to come home, and is chatbot-ing your iPhone at every opportunity.
The contraption looks like a coffee machine and is called the Gatebox, while the "home robot" is named Azuma Hikari. We'll leave the psychoanalysis for the specialists, but will just throw this video here, so that you can marvel at how advanced the society there is compared to our I-scored-my-girlfriend-drunk-in-a-bar routine. This genie in a bottle will be sold in Japan and in the US, and will cost $2600 when it starts shipping next year around this time, but you can preorder right now if you like what you see.