Schmidt: Google-Apple relationship warms a little
11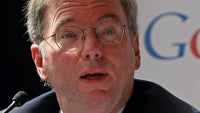 Eric Schmidt, executive chairman of Google, says that the often frosty relationship between his company and rival Apple is
slowly defrosting
. Over the last year, the two tech titans have been involved in "lots and lots" of meetings. The executive made his comment during the annual Allen and Co media conference in Sun Valley, Idaho on Thursday. According to Schmidt, Google and Apple are involved in "
constant business discussions on a long list of issues
."
The Google executive once sat on Apple's board during the development of the Apple iPhone and Apple iPad. That seems like eons ago, before Google's Android OS became the global leader powering smartphones. Apple didn't help the relationship when it decided to
drop Google Maps and YouTube on iOS 6
. Apple Maps, which was going to replace Google Maps on the platform,
suffered through a poor launch
and
Google Maps ended up updating its new app in the Apple App Store
. YouTube was removed because Google wanted to be able to put mobile ads up on the app. Apple actually did Google a huge favor. With Apple removing the YouTube client from iOS 6, it
allowed Google to sell mobile ads on a new version of the YouTube app
made available in the Apple App Store.
Will this be the start of a new era of peace in the mobile industry, or is it the calm before the storm? Who can forget the comment made by the late Steve Jobs to his biographer, Walter Isaacson, "
I will spend my last dying breath if I need to, and I will spend every penny of Apple's $40 billion in the bank, to right this wrong. I'm going to destroy Android, because it's a stolen product. I'm willing to go thermonuclear war on this
."
source:
Reuters