Saygus uploads a bunch of new videos, giving us a look inside and out of the V2
17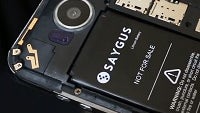 Polishing up one's image in the face of today's online scrutiny is an extremely difficult task, especially when you are a small company trying to make a big impression in an extremely large market.
Saygus is in just such a position. The Utah-based company made a big splash at CES this year, earning awards for what was promised to be a disruptive smartphone amidst an ocean of iPhones and Galaxies, the
Saygus V2
.
Then like all plans of products under development, the plans changed, then changed again, with an occasional sputter of information that created more questions than it answered. Saygus was getting bogged down in maintaining a message, until recently with a promise of new talent to help straighten things out.
After a couple wobbles, it looks like some time mingling at the Electronic Entertainment Expo (E3) in Los Angeles finally helped Saygus spread its wings a bit, and show off the goods.
Throughout the expo, Saygus was showcasing the V
2
smartphone to attendees, and responding to requests on Twitter. We are treated to a look at the redesigned insides that accommodate two SIM cards, two microSD cards, and a user-replaceable battery.
We get an idea about how robust the audio is from the dual front-facing speakers tuned by Harman Kardon. Saygus also shows off the camera interface, wireless charging, the fingerprint sensor, and expandable storage.
Given the revised timeline, and perhaps a little unease from some about
new orders being taken through Indiegogo
, Saygus' recharged campaign to showcase real hardware was timely to say the least. Orders are not expected to ship for another few months, but on the bright side, if you want a V2, you do not need an invitation.
For those still on the fence, the Saygus V
2
features a 5-inch 1080p display, dual-front facing speakers, a fingerprint sensor, dedicated shutter key for the 21-megapixel OIS main camera, has a 13-megapixel OIS front-facing camera, 64GB of highly expandable on-board storage, and 3GB of RAM. The quad-core Snapdragon 801 runs the show, and the V
2
will ship with Android 5 Lollipop.
There are a number of new to market features with the V
2
as well, such as a 60GHz WiHD transmitter, multi-boot from the SD card capability, and fractal antenna technology.
Most of these videos are quick "show-me" features, but they are more than
what we have been seeing
since CES, and that change is good.