Saygus pushes back shipping of V2 smartphone again
17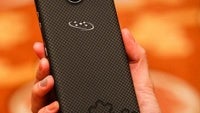 The small Utah-based tech firm, Saygus, wowed the mobile tech world this past winter with the
V2 smartphone
, a device intended to disrupt the market with a unique feature set, and premium build materials.
After benefiting from much intrigue in the media,
particularly at CES
this past January, the V
2
was made available for pre-order in early February. Shipping expectations at the time were estimated to be sometime in the latter part of March, but no firm date had then been announced.
After identifying some deficiencies in the antenna design, camera integration, as well as needing to finalize some distribution channels to contain VAT costs, Saygus formally announced a
shipping date of May 22nd
.
As you might have guessed upon consulting a calendar, you would notice that the 22nd is this coming Friday. The excitement was building for those that pre-ordered, and even Saygus was excited as it appeared everything was on track to begin shipping this week.
Unfortunately, that will not be the case. Saygus pushed out an email late Wednesday afternoon (Mountain/Pacific) that the V
2
would not begin shipping as planned. According to Saygus, the phones are "on the manufacturing line" but a review of "critical factors in preparation for shipment" revealed the need for some "quality assurance and network testing."
For those that ordered the V
2
, the response on Twitter, Saygus' primary communication method, was a mix of understanding and anger. On the whole, communication with Saygus has been a bit of a mixed bag for customers. Late last week an email was sent assuring "complete details" about shipping and "additional information" on Monday. Monday's last minute message turned out to be nothing more than a laundry list of shipping charges to all the countries Saygus would eventually being sending the V
2
.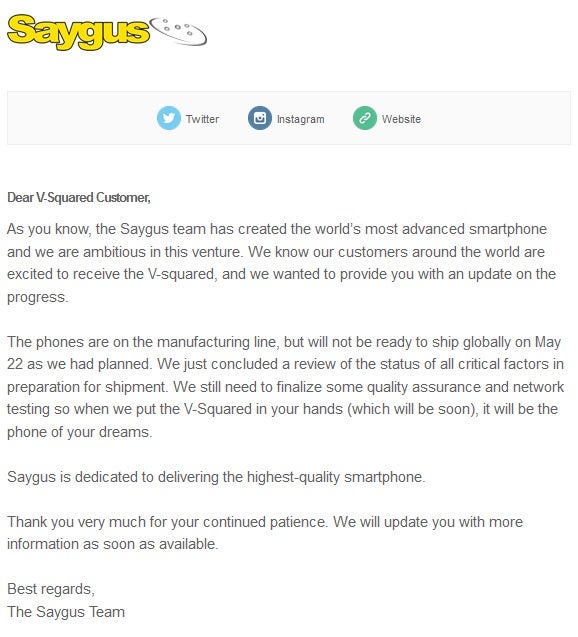 As for when the V
2
will actually ship, no one knows at this time, an update will be sent "as soon as possible." The shipping date is a tough one, and in Saygus' case, it illustrates why so many of the big OEMs do not set a date at all until usually within a week or so of an announced release.
We cannot fault anyone for waiting impatiently, the Saygus V
2
packs a competent spec sheet, including dual-optically stabilized front and rear cameras, huge amounts of expandable storage,
and WiHD streaming
. The dual front-facing speakers with Harman Kardon audio are an appealing feature too. Then, for those that decide it is not worth the wait, we see that point too. Saygus set enormously high expectations with the V
2
as well as the company in general. That makes these detail-related hold-ups more difficult for some to accept.
Did you order a Saygus V
2
? Are you going to request a refund in light of this development, or are you going to wait it out?