Saygus shows off HD beaming feature of V2, plus photo samples from 21-megapixel camera
26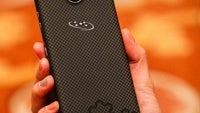 While much of the gadget world is fawning over the impressive specs and performance from devices like the
HTC One M9
,
Samsung Galaxy S6
, and
Galaxy S6 edge
, Saygus whetted the appetites of those who have pre-ordered the V
2
smartphone.
A couple of the highly anticipated features of the
Saygus V2
are the dual-OIS cameras, a 21-megapixel main sensor and 13-megapixel front facing camera, and the 60GHz Wireless HD transmitter which provides zero lag gaming and high-quality video beaming.
Saygus teased some pictures on its Twitter feed, and shared a few full-resolution images on Dropbox. The Salt Lake City, Utah-based company also put together a video highlighting the "WiHD" capability of the Saygus V
2
smartphone.
To the right are thumbnails of a few full-resolution photos taken in Spain last month, the first one tagged as being taken in HDR mode. It is difficult to make a judgment since they are pre-production, but zooming in seems to show only a little bit of processing action in some areas, without much by way of artifacts.
The low light shots look pretty good, but again, you be the judge and zoom in (note: the image files are large, 3-4MB each). Common to low-light images observed from other devices, you can see a bit more noise. All-in-all, the 21-megapixel camera on the V
2
looks like it is ready to get down to business once the device ships next month.
Below in the slide-show are cropped images taken with the main camera on the V
2
, as well as a video which shows the WiHD transmitter in action. For those that are not familiar, WiHD allows ultra-high-speed data rates, between 10-28 gigabits per-second. That allows for 60fps of 1080p video with virtually a zero pixel error-rate, and pretty much an instantaneous response.
The Saygus V
2
is a "super smartphone" according to its maker. The "super" moniker is not solely about specs, though it is not like this device is weak in that department either. In addition to the two monster camera, the V
2
has a 5-inch 1080p display, 3GB of RAM, 64GB of expandable storage (two microSD slots, each able to handle 128GB), Wi-Fi, NFC, IR-transmitter, and a replaceable 3100mAh battery with a power-saving chip. The V
2
will have an unlocked bootloader, and will also support multi-boot (from the SD card) which Saygus touts as an exclusive feature.
Magnesium and Kevlar make up the frame of what will be a pretty tough, and not too heavy (141 grams, 5 ounces). The V
2
will be IPX7 water resistant and will also pack a finger print sensor. The dual front-facing speakers should deliver a decent audio experience thanks to tweaking by Harman Kardon.
For now, it looks like the Saygus V
2
will ship with Android 4.4.4 KitKat, though the largely stock experience will get an update to Lollipop. The CPU is a quad-core Qualcomm Snapdragon 801 tuned to 2.5GHz, not the latest and greatest, but far from inadequate.
Saygus remains committed to its scheduled
ship date of May 22nd
. The V
2
can be pre-ordered for $599 unlocked. What do you think of the photos and WiHD feature?
source:
Saygus
(
1
,
2
)