Saygus announces slightly later formal ship date for V2, cites component challenges and antenna design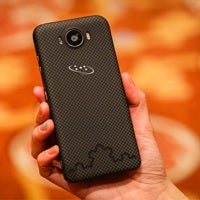 Utah based Saygus is looking to make an impact on the premium smartphone segment with a device that compromises little in the way of form or function.
The V2 smartphone
is the device Saygus will use to make that impact, and it has garnered a lot of interest from around the world as word has spread about the device. Saygus received orders from over 40 countries during the initial pre-order promotion in February, and rightly so. This global-LTE-ready device is packing competent hardware and a number of features that few smartphones have in one package. The retail price of $599 is not too rich either when you consider what you get for the money.
The
Saygus V2
will pack a largely stock Android experience, version 4.4.4 KitKat initially, though Lollipop updates are being worked on at this very moment. The bootloader will be unlocked for those that must tinker with Android. The CPU is a Qualcomm Snapdragon 801 which is a proven and capable chipset with 3GB of RAM to shuffle things around. 64GB of storage can be expanded by two microSD slots, each able to handle 128GB and provide the ability for the device to dual-boot. Aside from the two microSD slots, the V
2
also sports dual front-facing speakers utilizing Harman Kardon audio tweaking.
This device will have two monster cameras too, each with optical image stabilization – 20-megapixels on the back, 13 up front. Wireless gaming and mobile beaming are supported too thanks to a 60GHz transmitter.
Taken together, Saygus says its ship date will be May 22, 2015.
For those that choose to hang in there, Saygus is throwing in a set of SqGl ("squiggle") 3D
earbuds
as a consolation measure. However, if May is just too far away for you, Saygus will support a request for refund. Did you order a Saygus V
2
? Are you going to hang in there and wait?