Save money using Opera's data compression app, Opera Max
12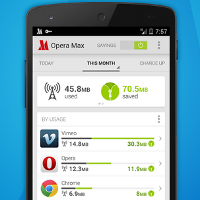 Nothing is more valuable to a smartphone owner, than his precious data allowance. That is why you might want to pay attention to what we are going to tell you. After beta testing for eight months, the Opera Max data compression app has found a partner. Vietnamese carrier Mobiistar is pre-loading the app on several handsets (Mobiistar Lai504m, Bean414 and Prime508) to save you as much as 50% on your data usage. Those outside Vietnam might not find the app pre-installed on their handset, but it can be downloaded for free from the Google Play Store in the US, Europe, Brazil and Russia. There is a special version of the app for those in China.
Thanks to the way Opera Max compresses data and images on almost every app on your phone, your 1GB data plan becomes a 1.5GB plan in theory. And the app works wonders on mobile video. We all agree that watching mobile video over your carrier's 4G pipeline is akin to shaving a week long beard using a 5 day old Bic disposable razor, and then rinsing your face with water from the Dead Sea. It stings like hell. But with the app, 10GB of mobile video is compacted down to a more bite-size 3GB. And the good news is that Opera Max will compress data on any app, not just your browser.
You can set the app to remind you when you are out of your carrier's cheap coverage area, and in a roaming zone where a vacuum sucks the dollars right out of your wallet. You can even arrange for costly apps to run data only, until you are connected to a Wi-Fi signal. The free app is made by the same code jockeys that developed the extremely popular Opera browsers.
Why get throttled or face overages? Go over your monthly data cap and depending on your carrier, you might end up paying $10 for each additional GB of data you use. But perhaps you might have been able to avoid getting your data throttled back to speeds not seen since cavemen used T-Rexmobile, by giving the Opera Max Data Compression app a try. It is free to download, and can be found at the Google Play Store.
Keep in mind that you won't see any changes while you are using Wi-Fi, and any mobile video app already optimized, like YouTube, won't show any change in picture quality. But saving as much as 50%in data use is something that anyone with a smartphone and a wallet, could surely use.
source:
OperaMaxbeta
via
Engadget