Save $19! Get 12 Disney games from the Google Play Store for just 49 cents each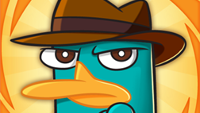 Disney has its little rodent hands in just about everything. Forget for a moment that its latest movie
Frozen
is hot (making a star again out of Idina Menzel). In fact, forget the theme parks, ABC Television, ESPN, and practically all of Times Square and Broadway. Disney has done a fine job taking a hit mobile game in
Where's My Water?
and extending the game play to other characters, such as
Phineas and Ferb's
Perry.
Disney has even brought out the big guns. For example, there is now
Where's My Mickey?
and
Where's My Minnie?
which feature game play based on cartoons included with the apps.
For the holidays, Disney has cut the price of 12 apps found in the Google Play Store. Why Android? Consider that the purchase of Lucasfilm means that Disney gets paid whenever a Motorola DROID handset is sold by Verizon. (In an aside to this story, we pointed out last year that ironically,
the Steve Jobs Trust benefits from sales of Motorola DROID models
. You see, when he sold Pixar to the mouse, Jobs became the largest Disney stockholder. To the extent that more profits for Disney means a higher stock price, the estate of the late Apple co-founder actually does well with the sale of certain Android phones. Amazing).
The 12 Disney apps involved in the promotion have been sliced to 49 cents from the original $1.99 price except for
Where's My Perry
which is normally $2.99. The titles include
Disney Christmas Tree
,
JellyCar 3
,
Monsters University
,
Monsters, Inc. Run
,
Temple Run: Oz
,
Toy Story: Smash It!
,
Temple Run: Merida
,
Where's My Mickey?
,
Where's My Mickey? XL
,
Where's My Perry?
,
Where's My Water?
and
Wreck-it Ralph
.
If you buy each app for 49 cents, you will save $19. That should be enough to take you and your date to see
Frozen
, arguably one of Disney's best achievements in years.
source:
GooglePlayStore
via
AndroidAuthority