Save $10 by downloading this paid iOS app for free
1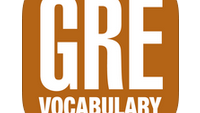 GRE Vocab Genius
is normally a $10 app from the Apple App Store. But for a limited time, you can navigate over to the App Store and install the app for the low, low price of $0. As its name implies, the GRE Vocab Genius improves your vocabulary. The process involves the use of more than 2000 dynamic flashcards. 1900 of them will teach you the most difficult words on the GRE. 300 additional "word elements" cards will teach you common prefixes, suffixes, and roots.
For those who find memorization about as easy as catching a shadow, the app uses a customized flashcard repetition algorithm to cut memorization time. You can browse or search for specific cards and there are real-time stats that keep track of your progress. The team behind the app are former executives from The Princeton Review and Kaplan, so they know exactly what the GRE test is looking for. The team is also comprised of cognitive scientists who used to ply their trade at Columbia and Yale (No, not the country and the key maker).
At the stroke of midnight Monday morning, this app is no longer free. If you've been looking to buff up your vocabulary (for some it is more important than buffing up their body), don't miss this opportunity to snatch up GRE Vocab Genius without having to cough up a ten-spot.
source: GREVocabGenius (
iOS
) via
RedmondPie