Satechi Bluetooth Portable Speaker hands-on
8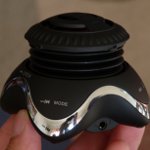 Speakers come in every size and shape, with some being more intriguing than others thanks to their exceptional design and functionality, which is the perfect balance needed to get the attention of hungry consumers.
Satechi
might not have the brand name recognition to pull people in, but there's something about one of its latest products that simply reels in our attention.
If you're on a budget and want a speaker that's compact with its size, you don't need to look further than the
Satechi Bluetooth Portable Speaker
. Right off the bat, it sports one interesting uniform design that's quite compact and lightweight – and in fact, it reminds us of some sort of flying saucer of some sort. Aside from featuring the obvious things, this small bundle of joy packs the unique feature of Satechi's signature
Bass Expansion System
, which
extends
its speaker to amplify its audio range – without impacting its quality and integrity.
When it's closed, its volume output is strong, but just like speakers built into our modern smartphones, it lacks any kick to its bite. However, opening it up and extending the speaker, it sprinkles on some much-needed
bass tones
that turn the mute tones into something profound. And if you simply prefer a wired connection, it discretely packs a 3.5mm adapter on its underside. Around the sides of the speaker are various controls, which include volume adjustment, power, forward/reverse, pause/play, and mode.
Internally, there's a lithium-ion rechargeable battery that's charged via its miniUSB port, which is rated for
6 hours of playback time
. Well, the neat thing about it all is the fact that it's super compact and can be tucked away – hidden from view. Sporting a
$44.99
price point online through Satechi's and Amazon's web site, it's a reasonable investment that won't break the bank.
source:
Satechi