Satechi Audio Cube Bluetooth Speaker hands-on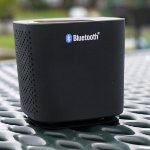 If there's one way to capture the attention of consumers, devices need to employ some kind of unorthodox design to stand out from the usual crop. Well, that's essentially what we find with the
Satechi Audio Cube Bluetooth Speaker
, as it flaunts a very different design from all other portable speakers we've checked out.
As its name implies, the Audio Cube is undeniably
eye catching with its cube-like design
– and simply, it takes a very different path versus other portable speakers. Certainly, it's still portable enough to carry along in a bag, but it isn't something we'd recommend trying to stuff into your pockets. Thankfully though, we love the
solid build
of the speaker, as it's accompanied with some weight to instill us with a sense of confidence with its durability over time.
Delivering
2x2 watts
of audio performance thanks to its left and right speakers, its output is
extremely robust
and filled with plenty of strong tones – and it easily makes the dinky speaker in our HTC One X unit sound indistinct by comparison. Even more, it delivers some
powerful bass tones
at the highest volume setting, without straining one bit during our testing. On the top
edge
of the Audio Cube, we're presented with its physical controls for volume, forward/reverse, power, and pause/play. In the rear, we find a miniUSB port to charge its internal battery, which is rated to provide
6 hours of juice
. Finally, in addition to Bluetooth connectivity, it also features a useful auxiliary input port for those devices that prefer a wired connection.
Honestly, the Satechi Audi Cube Bluetooth Speaker is simply one of those cool looking devices that can double as a centerpiece to a table – while still acting as a portable speaker. It's interesting, yet fascinating, but in the end, it all converges together to provide a tasteful and joyful experience. For
$44.99
, it's not bad of a deal, taking into account its different looking design and exceptional audio quality.