Sapphire glass panel from an Apple Watch gets hammered and drilled on video; does it scratch?
42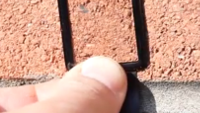 With the Apple Watch officially launching two weeks from tomorrow, wouldn't you like to know how durable Apple's smartwatch is? You should expect the timepiece to hold up under most situations. After all, outside of the entry-level Apple Watch Sport (which is utilizing Ion-X glass), the display on the watch is sapphire glass. If you remember all those months ago when the
Apple iPhone 6
was
rumored to include a sapphire display
, we told you that sapphire is the second hardest material on earth after diamonds.
Apple already has employed sapphire glass to protect the rear camera on the iPhone, and to protect the Touch ID components embedded in the home buttons of the iPhone and iPad. With Apple expanding its use of the material on the Apple Watch, a company called iPhonefixed (can you guess what they do?) decided to see just how well sapphire glass holds up on the Apple Watch.
While iPhonefixed couldn't get its hands on the Apple Watch, it did get its hands on one of the sapphire panels that is used on the device. The screen gets rubbed against a brick wall, scratched by a coin, a key and sandpaper. A hammer is even used to try to scratch the display (although the taps did seem to be light). Finally, the piece de resistance. A power drill was called upon in an attempt to damage the screen. Bottom line? No scratches were created and the sapphire display was in perfect condition.
If this test is legit, it bodes well for the durability of the Apple Watch. It also means that those wearing the device on their wrist can go through their normal activities without worrying every two seconds about scratching or cracking the display on their new smartwatch.
source:
iPhonefixed.uk
via
BenjaminMayo,
BGR
Recommended Stories