SanDisk's 200 GB microSD card is now available to purchase, and the price isn't that high
45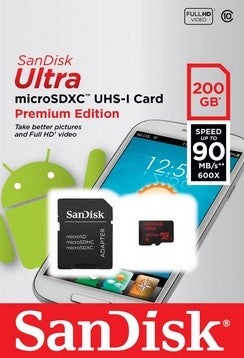 It was suggested upon introduction that
SanDisk's 200 GB microSD card
would cost around $400 at launch, but in fact, you can snag the thing on Amazon for just over half of that. SanDisk is one of a cluster of companies looking to push the boundaries of storage technology, and despite having apparently been bested by
Microdia's $1,000, 512 GB microSD card
, the $239 asking price for the company's just-released 200 GB model seems a comparative steal.
The movers and shakers in the modern tech world are trying to sway consumers towards a cloud-centric future. At the moment, however, many are being dragged kicking and screaming, particularly with the
all-too-frequent outages
of cloud services and perpetual privacy concerns. As such, physical storage devices and peripherals remain in high demand, and with SanDisk now offering 200 GB of additional real estate for just over 200 bucks, mobile device users will be able to carry around considerably more data than has been possible before now.
First unveiled at Mobile World Congress back in March, it was thought that the waterproof, x-ray and magnet-proof microSD card would cost in the region of $399.99. But for the precise sum of $239.44, the 200 GB card is shipped free of charge, saving just over $10 on Amazon's $249.99 list price.
With read speeds of up to 90 MB/s, the 200-gig SanDisk Ultra (SDSDQUAN-200G-G4A) card can store up to 20 hours of FHD video. As smartphone cameras continue to improve,
offering 4K video
,
RAW photo shooting
and other such space-hoarding perks, a 200 GB card will become more commonplace among the wider point-and-shoot community. For now, though, such a card will mostly be reserved for pro shooters and DSLR enthusiasts, for whom hundreds of gigabytes can often seem like chickenfeed.
If you are interested in bumping up storage by 200 GB, you can grab SanDisk's new mircoSD card through Amazon at the source.
Recommended Stories