Microdia unveils 512 GB microSD card, although it costs a bomb!
23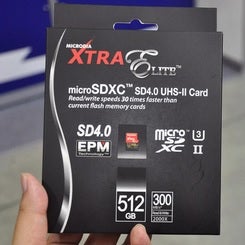 Microdia has just taken the wraps off the world's first 512 GB microSD card, which is more than double the 200 GB maximum capacity currently available on the market. SanDisk, the maker of the
Ultra microSDXC
presently acclaimed as the world's highest-capacity microSD card, has long been considered the driving force behind this market, setting new benchmarks time and again. But at this year's Computex in Taipei, Taiwan, Microdia has certainly seized the initiative.
At a time when mass storage is generally becoming cheaper to avail, Microdia's Xtra Elite 512 GB microSD card bucks the trend in quite emphatic fashion. If the idea of carrying a half-terabyte of data in a fingernail-sized package appeals to you, expect to pony up around $1,000 for the privilege of doing so. That's an eye-watering amount of money to part with, no doubt, but then again, this is the very first of its kind.
The Xtra Elite will likely hit the market next month, supporting the UHS standard with speeds of up to 300 MB/s. The card is based on the SD 4.0 standard, which includes a secondary row of pins, so if your device doesn't meet the SD 4.0 requirements, you'll only be able to hit speeds of half that, or around 150 MB/s.
It's a giant leap as far as microSD tech is concerned, but would you consider buying the Xtra Elite? As a
data hoarder
firm believer that one can never have enough storage, I'd love to have 512 GB to play around with, even if I never got close to using it all.
With that said, at a thousand bucks, I think I'll give it a miss for the time being!