Samsung's 'luxury' Galaxy F flagship leaks in a new photo, struts its metallic stuff
55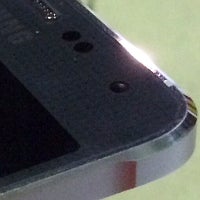 We had almost given up on the new "luxury"
Galaxy F
series phone by Samsung when the
S5 LTE-A
was announced, as the new S5 version sports the rumored
S5 Prime/Galaxy F
specs - a Super AMOLED display with Quad HD resolution, and the newest Snapdragon 805 processor. However, a new series of leaks has appeared since, indicating that the Galaxy F might indeed exist in its rumored metal-clad body, marking a
bold new line of premium flagship handsets for Samsung
.
By premium we, of course, mean with metal chassis elements, as Samsung is long overdue outing such a handset. As if to confirm the most eagerly-awaited aspect of the eventual "luxury" Galaxy F flagship, a new photo has leaked, that clearly shows metallic sides, whereas previously we've head leaks showcasing the metal back. This leads us to the thought that, despite the S5 LTE-A announcement, the Galaxy F is slowly turning from a vaporware into a metal-clad warrior that we can't wait to meet. Or, at least, we are eager to examine without even hearing about the possible Samsung pricing scheme for this puppy.