Samsung's chief product officer in the U.S. walks away
13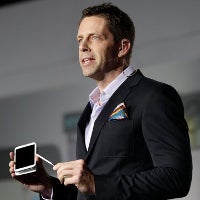 Kevin Packingham, Samsung's chief product officer in the U.S., has departed the Korean based manufacturer. Packingham was responsible for the introduction of some of Samsung's top-selling models like the
Samsung Galaxy S III
which was the first smartphone that was a serious contender to the Apple iPhone in terms of the number of units sold in a year. Packingham helped arrange for the model to be released for all four major U.S. carriers. He also worked on the first phablet, the
Samsung Galaxy Note
, and the current flagship model, the
Samsung Galaxy S4
.
Based out of Dallas, the executive spent two years at Samsung Mobile and recently explained how Samsung wanted to be in charge of advertising its own products instead of relying on the carriers to spend money on promoting the brand. This led to a number of witty television commercials,
some of which poked fun at those Apple iPhone users
who wait all day on a long line to buy the phone. The carriers liked the idea of Samsung running its own spots because this way they wouldn't have to shell out as much money to promote Samsung's models.
While Packingham's decision to leave was announced today, it was known internally on Tuesday. No replacement has been named.
source:
NewYorkTimes
via
BusinessInsider