Samsung's Tizen-based Z1 phone will be able to run Android apps, could be announced tomorrow
17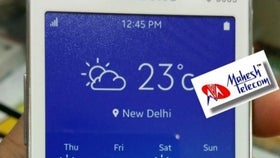 Samsung Z1
, an entry-level Tizen smartphone that's about to be released this month, is a bit more interesting than we initially thought.
Yesterday, we showed you images of
WhatsApp running on the Z1
. As it turns out, that was WhatsApp for Android, as the upcoming Tizen handset will be able to run Android apps. Now, Tizen does not officially support Android apps, but there's a workaround thanks to OpenMobile's Application Compatibility Layer - which is specifically developed to allow Android apps to run on non-Android devices.
According to OpenMobile, "ACL-enabled Android apps perform as native on the Tizen operating system, with minimal latency." When the Samsung Z1 is launched, users will be able to install OpenMobile's ACL from the Tizen app store. WhatsApp, as well as other Android applications, will also be available via Tizen's app store. There's a video (embedded below) which shows how you can run WhatsApp on the Samsung Z1 with the help of OpenMobile's Application Compatibility Layer.
As for the Z1 itself, this reportedly features a 4-inch display with 480 x 800 pixels, dual SIM capabilities, dual-core 1.2 GHz processor, 768 MB of RAM, and 4 GB of internal memory. The smartphone could be announced by Samsung as soon as tomorrow, January 14 (though we also heard that it may be announced
on January 18
).
It's not clear if Samsung intends to release the Z1 - which should cost about $90 - in more countries besides India, but we'll let you know as soon as we find out.