Samsung's Shin Jong-kyun says "No compromise!" on the patent fight with Apple
34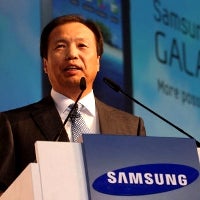 Reportedly frustrated by
Apple's offer to settle for rumored $5 to $15 per Android device in patent licensing fees
, Samsung's Shin Jong-kyun said the company won't back down in the ongoing legal spat with Cupertino over patents.
"
No compromise!
", has been the exec's comment after a meeting that saw senior company managers gathered together for an undisclosed purpose. The meet could have very well been for discussing Apple's licensing deal offer, and Shin Jong-kyun, the head of the Telcommunications Department in Samsung, is apparently against any sort of a deal making.
Now it could all be just a bluff to kick the offer's tires and try and lowball Apple's lawyers into a more reasonable settlement request. Or Samsung's exec might think they have a good chance to overthrow the patent infringement lawsuits in court, and save the company $5-$15 per handset.