Apple softens Jobs' war on Android, offers licensing deal to Motorola and Samsung
69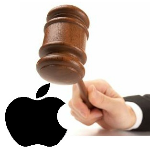 It looks like Apple may be softening its strategy in Steve Jobs' eternal war against Android. Now, instead of seeking injunctions against devices in its numerous lawsuits against Android hardware manufacturers, Apple is taking a page from Microsoft's playbook and offering licensing deals instead. At last count,
Microsoft had signed licensing deals
with over half of all Android manufacturers, and was collecting anywhere between 5 to 10 dollars per handset sold in royalties.
Apple is just targeting Motorola and Samsung right now, but is looking for a little more than Microsoft, asking for between 5 and 15 dollars per handset sold. The licensing deal was presented to Motorola and Samsung by Apple as a settlement to the current lawsuits seeking injunctions. The figure of $5-15 represents between 1%-2.5% of net sales per device.
Motorola had offered Apple a similar licensing deal, asking for 2.5% of net sales per iOS device for the wireless patents that had led to an
injunction against iCloud
in Germany. Samsung is also
locked in litigation
with Apple. Who knows, maybe this will be a turning point away from wasteful patent litigation and towards licensing deals which will end up with everyone paying everyone else. That's progress, right?