Samsung's Project V foldable phone coded as SM-G929F, screen size and launch countries leak
18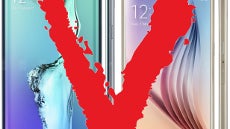 Things are happening, people, and we might indeed see Samsung's first truly
foldable phone with flexible display
be released for the retail crowd in the not-so-distant future. If anyone asks you what's the hubbub - well, a real foldable device will let you fit a large display in a small pocketable footprint for carrying around.
We already learned that
Samsung's Project V (for Valley)
is being tested for January release, and now even the countries where it might appear first have leaked out. Apparently, the phone (coded SM-G929F) will hit most of Europe at the beginning, just like the
S6 edge+
, as well as its home turf of South Korea:
BTU – United Kingdom
CPW – United Kingdom (Carphone Warehouse)
DBT – Germany
ITV – Italy
KOR - South Korea
NEE – Nordic countries
XEF – France
XEO – Poland
XEU – United Kingdom / Ireland
Last we heard about the alleged specs sheet,
Samsung was testing the V-shaped phone
with a Snapdragon 820 configuration, 3 GB of RAM, microSD card slot, and, naturally, a non-removable battery. So far, the only truly mysterious piece of Samsung's foldable phone puzzle has been the display size. Samsung
has had a working prototype of this display for a while now
, allowing for thousands of closings and openings without deterioration of the folding area. It's using a metal mesh touch layer in the display itself, and not an indium tin oxide (ITO) film, which would deteriorate when bent.
Back in January last year, around CES time, we learned that Samsung has shown the prototype to select telecom and investor audience, and at the time it was rumored that the panel is 5.7" in size, or about what we have now on the
Galaxy S6 edge+
, or SM-G928. In fact, the internal coding for the Project V phone is said to be SM-G929, which is not that far off. A recent posting on the import-export database Zauba, though, denotes a Samsung prototype for R&D purposes codenamed SM-G929F, but lists it with a 5.1" display, like on the
Galaxy S6 edge
.

Thus it's still not clear if the phone will be around the size of the S6 edge+ when stretched out, and the size of the S6 edge when folded, or we are talking about a whole different screen size setup here. In any case, as we mentioned in the beginning, it seems that things are really happening, and we might indeed see a foldable Samsung phone announced around CES time, a full two years after its prototype has allegedly been flaunted at insiders around the expo.