Samsung's Android powered tablet is expected to be announced on August 11?
7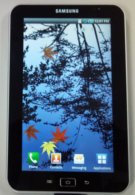 Samsung already looks to have a tight grasp in the smartphone market now that two out of the four major carriers have launched their specific versions of the Samsung Galaxy S handset. We've only begun to taste the tip of the iceberg with Samsung's offerings, but there's no doubt that the Samsung Epic 4G and Fascinate will also accomplish the same feat – thus aiding sales for the Galaxy S line of handsets on a global basis. However, it looks like there might be even more under the covers since Samsung has sent out invitations to members of the press regarding a special event being held on August 11. Presumably, it may have something to do with their upcoming Android powered tablet based on the Galaxy S; the
Samsung Tab
. Despite the lack of official specs, it's speculated to sport a 7" touchscreen and will run Android 2.2 from the start – plus it may also implement some phone functions. The invitation states that it will be an opportunity to "see new products" which could mean a laundry listing of products from the Korean manufacturer. So you can't throw out the notion that they can even announce something like a new 3D television set or appliance product, but you really can't help think that it has to be something to do with this Android tablet – even when it looks like Samsung Galaxy S sales are looking healthy.
source:
CrunchGear