Samsung willing to collaborate with Google on AI, Bixby wags virtual tail
13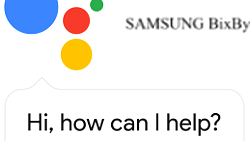 The term artificial intelligence has been greatly misused by phone makers and tech reporters alike lately, after Amazon made a hit with its Alexa virtual butler on the Echo home gadget that sold millions. Google came up with its Assistant gizmo, Apple is boosting Siri, Samsung will
reportedly come up with Bixby
, Honor has "AI" on its newly-minted
Magic
phone, LG will be having its own souped-up butler on the
G6
, and so on.
They are all called AI by the marketing departments, but are in fact glorified voice recognition and algorithmic machine learning software with limited functionality beyond predetermined commands, and answers to a follow-up question or two. Samsung, however, seemingly has larger ambitions for Bixby, as it reportedly plans to incorporate it throughout the
Galaxy S8
interface, individual apps included, and even place it into its Internet of Things network of smart home appliances, for instance.
That is why Google might have
reluctantly greenlit Bixby
to cohabitate with the built-in Android Nougat service, and Samsung wants to collaborate with Mountain View on its further development. "
Samsung and Google will have to continue to maintain their strategic partnership to nurture the AI and the market for the emerging technology
," tips Lee Kyeong-tae from Samsung Mobile, in a diplomatically worded "frenemy" message during conference call with investors today.
If you are wondering how all of a sudden Samsung is making strides in virtual assistants, given the unimpressive S Voice it has had on its phones before, don't forget that it
bought Viv, of Siri creator fame,
not long ago. Those guys are the real deal, with their software able to write code and learn on the fly, even if it hasn't encountered that query before. Samsung wanted to catch up on the virtual assistant and chat bot trend, the Viv team wanted ubiquity and exposure, so it's a win-win situation, which hopefully will be translated into a win for the end user, too,
when the Galaxy S8 lands
, so we can't wait to test Bixby.
Recommended Stories