Samsung will collaborate with other chipset makers for its affordable devices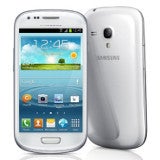 Samsung produces many of the components used in its mobile devices, and usually the processors aren't an exception. As you know, the biggest phone manufacturer by volume has its own line of chipsets called Exynos, and what a line it is! Even though the competition in the SoC area is very strong, Samsung has managed to remain at the forefront with its Exynos processors, which have been among the fastest ones out there.
The Exynos CPUs, however, have been mostly reserved for the manufacturer's high-end devices, and it seems like this isn't going to change anytime soon, because Digitimes reports that Samsung will be looking to collaborate with other mobile processor makers for its more affordable devices. The reason for this, according to the Taiwanese publication, is that Samsung sees 2013 as a year of a small decline in terms of smartphone demand in the markets that are more mature. This means that Samsung sees the main opportunities for business growth in developing markets, where low- to mid-end phones are mainly sold. Apparently, the company thinks that by partnering with other chipset vendors, it will be able to deliver smartphones that are both extremely cheap and well performing. We have to admit that we haven't had issues with regards to performance when testing Samsung-made devices using non-Samsung processors, such as the
Galaxy S III mini
or the
Galaxy S II Plus
.
source:
Digitimes