Samsung wants to know what makes Apple iPhone buyers tick
47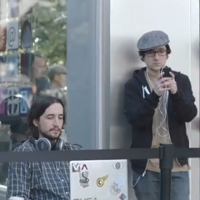 From the
very first ad
for the
Samsung Galaxy S II
that introduced us to the barista, it was obvious that Sammy had something special going on with these spots. And that very first ad introduced a put down line so glorious that
Samsung later preserved it on a t-shirt which it gave away as a contest prize
. A guy is chatting with his pal, both waiting patiently on line to purchase the new iPhone. One of the men explains why he can't buy a Samsung phone by saying how creative he is. The friend says simply, "
Dude, you're a barista
."
The barista ended up making a few more appearances
before he disappeared from Samsung's ads.
Even though the Korean manufacturer made fun of those waiting on long lines to procure Apple's iconic smartphone, it seems that Samsung really does want to know what makes Apple iPhone buyers tick. So they set up camera crews outside the Apple Store on Fifth Avenue in the Big Apple, of course.
HTC set up a camera crew just outside of Times Square
back in March when Samsung introduced the
Samsung Galaxy S4
to a loud throng in Times Square. The result was a commercial that received some airtime.
But unlike HTC, which had distributed and posted flyers and did nothing to keep its presence at a rival's event a secret, Samsung did not promote its appearance at the brick and mortar store, which is located on one of the most famous shopping addresses in the country. While keeping a low profile, the Samsung crew asked questions about whether the line was longer or shorter than last year's line. The crew from Samsung also asked if those on line seemed more or less excited than they were at last year's release of the
Apple iPhone 5
.
The video team came from Samsung Broadcasting Center which makes videos to be viewed internally by Samsung employees for training purposes. They claimed to be in New York City to do a profile on an executive and just happened to be in the area. A U.S. based Samsung representative declined to comment.
source:
CNET