Samsung disses Apple over iPhone X download speeds
39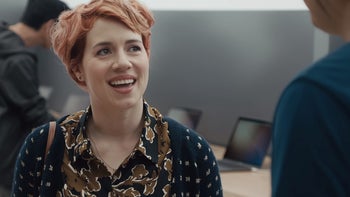 Shortly after Samsung released its Galaxy S9 in the US and around the world, it was discovered that this new smartphone had at least one advantage over the Apple iPhone X: faster download speeds over cellular networks. Now, Samsung is using that as the main idea behind its latest video commercial.
In its new video - embedded below - Samsung tries to recreate the experience found inside a typical Apple Store. We're presented with a potential customer who's interested in the iPhone X - she may want to buy it, but knows that its "download speeds aren't faster than [on] the Galaxy S9," and tells that to an Apple employee. This leaves the employee a bit perplexed and seemingly not knowing how to answer. Well, Samsung suggests some kind of indirect answer anyway, advising iPhone users to "upgrade to Galaxy."
We don't know if this is how things would turn out if a similar situation happened in real life in an Apple Store. Most probably not. Nevertheless, from the point of view of a consumer who isn't a hardcore fan of a particular brand, this video should be funny.
It's not the first time when Samsung takes direct jabs at Apple in its Galaxy commercials, and we're pretty certain it is not the last time, either. With that in mind, we'll be waiting for Samsung and Apple to release their next-gen high-end handsets of this year - the Galaxy Note 9 and the iPhone 2018 family, respectively.