Samsung users, what resolution do you have your Galaxy flagship set to?
70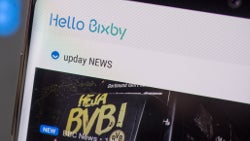 Over the past 3 years, the topic of the super-sharp QHD (1440 x 2560) resolution on smartphones has been a divisive one. Some people say it's overkill and makes no difference on a 5" – 5.5" screen, others swear that they can see the finer detail and, naturally, bring up VR as an argument for needing a super-sharp resolution.
Finally, Samsung said "To each their own" and just gave users three choices of resolution — HD (720 x 1080), FHD (1080 x 1920), and QHD (1440 x 2560). The best part about this is that no matter which setting you go for, the phone will always auto-switch to QHD if you happen to put it in a Gear VR set for some VR adventures.
The option is available on the newest flagships — Galaxy S8 and S8+ (with the + moniker due to the 18.5:9 ratio), the older S7 and S7 edge, as well as the still-not-retired Galaxy Note 5. So, if you own any of those, you have that option, congrats! What do you have it set to?