Samsung ups the ante with R&D, to invest $9.3 billion in developing new technologies this year
37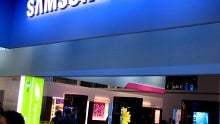 Samsung Electronics is about to spend over 10 trillion Korean won ($9.3 billion) in research and development activities this year, the Korean news agency Yonhap reports. The money will go towards developing
new mobile phones
, semiconductors, displays and electronics technologies, with some of it serving
Samsung's big software push
.
The focus on software efforts is pretty visible in the last few weeks - just in the mobile division
Samsung hired the famous Cyanogen Android ROM modder
, outed its own
cross-platform ChatON messaging service
, and is rumored to show interest in
acquiring webOS from HP to bolster its tablet OS hedges
.
$9.3 billion is a lot of money for R&D - Apple spent less than a third of that in the last 12 months, and Nokia, which was notorious for huge R&D expenses, spent less than a half of that in 2010. Samsung Electronics, of course, makes TVs and a lot of other assorted gadgetry, which it is now
scaling down from,
but this princely sum is catapulting it amongst the top spenders in the field. Moreover, Samsung already holds some 100 452 patents worldwide, 4 551 of which were earned 2010 in the US alone,
placing it only second after IBM in patents acquired for a year
.
For us spectators, this gigantic R&D splurge can only mean one thing - new smartphones and tablets with even greater specs. Hopefully the main battle in the mobile space will stay
Apple vs Samsung
next year as well, as these two have proved that cutthroat competition leads to great devices,
litigation roadblocks
notwithstanding.
source:
Yonhap
via
mocoNews