Samsung develops "unbreakable smartphone panel" and gets it certified
14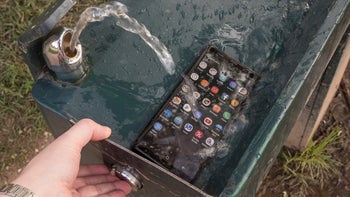 Samsung has just announced that it has managed to build an unbreakable smartphone display, which has been certified by Underwriters Laboratories, an official testing company for
OSHA
(Occupational Safety and Health Administration) of the U.S. Department of Labor.
Developed by Samsung Display, the unbreakable panel can be used inside other electronic products, not just smartphones, including consoles for automobiles, mobile military devices, portable game consoles and tablet PCs.
For the tech-savvy, the panel announced today by the South Korean company is, in fact, a
flexible OLED display
that has an unbreakable substrate and overlay window adhered to it.
The fortified plastic window is especially suitable for portable electronic devices not only because of its unbreakable characteristics, but also because of its lightweight, transmissivity and hardness, which are all very similar to glass.
Of course, in order to receive the certification from
OSHA
, Samsung Display's unbreakable panel had to pass some durability tests based on military standards set by the U.S. Department of Defense.
Apparently, even after being dropped from 1.2 meters (nearly 4 feet) above the ground 26 times in succession, the
unbreakable panel
continued to function normally with no damage to its front, sides or edges. The panel was also exposed to high (71 degrees) and low (-32 degrees) temperatures tests, which it fully passed.
But Samsung went even further and did a test of its own that implied dropping the panel from 1.8 meters (nearly 6 feet), but the display continued to operate normally with no sign of damage. Although we don't have an image of this technological wonder yet, but we have no reason to doubt the U.S. Department of Defense.