Samsung to use cheapo MediaTek processors for 2014 phones
29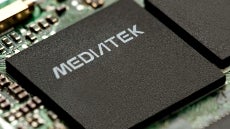 Next year Samsung is to go CCC, or Cheap Chinese Chipset, as reports are coming it will start using MediaTek's quad- and
octa-core silicon
for its low- to midrange handsets.
So far it's been sometimes using Broadcom on some of its low-end handsets, but MediaTek is likely to come even cheaper for Samsung, seeing that most Chinese and Indian Android makers are using precisely these chipsets in their phones.
Most handsets with MediaTek that have come through our hands for review left us rather unimpressed in terms of smooth interface handling or graphics-heavy tasks like 3D gaming. This is evident in benchmarks and explicable given that even the quad-core ones are a frugal but underpowered Cortex-A7 affair.
By the time Samsung signs the agreement and the Chinese start shipping their silicon in volume for the second half of 2014, however, there might be newer versions that will up the performance while keeping power draw to a minimum. Well, maybe not to up to the level Qualcomm does it, but hopefully better than what the Chinese have now. One thing is for sure - Samsung's handsets will become even cheaper to produce, and we hope that some of the savings will be passed on the us users.