Samsung to unveil Galaxy Note 10.1 with brand-new specs on August 15th?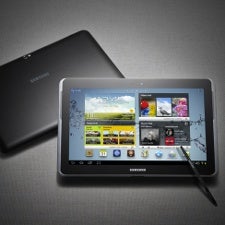 August 15th
is a date you should remember - we don't know what exactly will happen, but we do know that Samsung will announce something. We've heard it could be the Samsung Galaxy Note 2, but more likely, it will be the Samsung
Galaxy Note 10
.1.
Samsung unveiled the tablet back at MWC, but since then we haven't heard much about the pen-enabled 10-inch tablet. Nearly two weeks before the event, though, more sources agree the
Galaxy Note 10.1 will get re-announced with brand new specs
and now it seems that all the technical details have surfaced before the launch.
The leak is more of a reality in Korea where someone managed to buy and use the device. We expect the specs to be largely the same when (and if) the tablet gets announced, but there's always the chance that Samsung changes something in the last minute. With no further ado, here's what the Note 10.1 could look like:
- 1.4Ghz Quad Core Exynos 4412 (the same as in the Galaxy S III)
- 2GB RAM
- 16GB of internal storage, expandable via micro SD cards
- 10.1 inch PLS display
- 1280 x 800 pixels of resolution
- 5MP rear camera, 1.9MP front camera
- 1080p video recording
- 7,000mAh battery
- HSPA+ / Wi-Fi a/b/g/n
- Bluetooth, GPS
- ICS
Sadly, those couple of weeks that passed since Google announced Android 4.1 Jelly Bean were not enough and the tablet will arrive with ICS on board. The missing piece of the puzzle is the actual price, but we would expect it to be somewhere in the $500 vicinity for a basic Wi-Fi-only model. Would you get one of those upcoming Notes?
source:
Brave Post
via
Kuccblog