Samsung: Galaxy Fold is the canary in the coal mine of Chinese OLED makers
9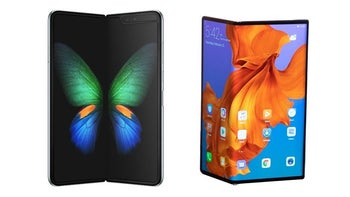 The VP of Samsung Display is the gift that kept on giving in the last few days, divulging
secrets
from the
Galaxy Fold
re-release kitchen. During the Korean Information Display Society forum in Seoul, Mr Kim Seong-cheol said that his department is on "standby," ready to go into mass production of displays for the Galaxy Fold, as Samsung has apparently
resolved the two issues
with the screen packaging that rose during the initial preview phase.
While we are waiting on the Galaxy Fold to arrive around the
Note 10
announcement, or maybe even a bit earlier, and hope that the teething problems that prevented the original launch date have been ironed out, it's worth pointing out that Mr Kim didn't just dedicate his keynote address to the foldable phone's issues.
He also
laid out
Samsung's vision of the future for OLED displays to be centered around the switch to foldable devices. The work he charted going forward - low-stress layers, cover films, precision alignment and curl and delamination - all has something to do with the challenges arising from the creation of future phones that bend, as we became painfully aware with the case of the missing Galaxy Fold.
We plan to engage in a technological competition, and not a competition of production
Kim Seong-cheol also didn't mince words when he detailed Samsung's OLED expansion plans. He frankly stated as a fact that the Chinese OLED makers like BOE that supply screens to Huawei or Xiaomi, will surpass Samsung in terms of panels produced in 2020.
That's not very worrying for Samsung, though, as apparently it intends to keep the lead in OLED superiority with new features and focusing on quality instead of quantity, according to the VP of its Display division. Thus, Samsung's work on the screen technology for the Galaxy Fold will be keeping it ahead of the value-for-money Chinese pack, and we can't wait to see how the Fold issues have been resolved.
Let's not forget that just last week a Samsung official predicted that the nascent foldable phone industry will hit the sub-$1000 mark with top-shelf devices within two years which should be where mass adoption starts happening and Samsung's bet on bendable displays pays off.