Samsung to release yet another flip phone... with Snapdragon 800?
29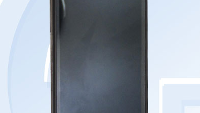 The level of vertical integrationover at South Korean tech behemoth Samsung has allowed it to spawn aninnumerable amount of devices of all kinds, covering a wide range oftastes. However, until recently, most of these have been decidedlymainstream devices, but spread over a wide range of price points.This changed a few months ago, as Sammy introduced... or rather,re-introduced a modern version of a concept that we had thought hasgone the way of the Dodo – flipphones. And severalof those, too.
These have been aimed at theChinese market, and the newly certified SM-W2014will apparently be no exception. According to rumors, thedual-screened device will come packing the mighty 2.3GHz quad-coreQualcomm Snapdragon 800 and 2GB of RAM. Not impressed? Perhaps the(confirmed) BSI 13MP rear/2MP front duo of cameras will change yourmind. What's even more, the device has also been confirmed to comepacking the latest Android 4.3 Jelly Bean iteration. The SM-W2014weighs in at 173 grams and measures 116.85x59.4x15.79mm.
Of course, considering that it'llbe packing two measly 3.67-inch 480x800 resolution AMOLED displays,it's rather confusing as to why Sammy would go for so muchhorsepower, which would simply feel wasted. On the other hand, thoseof you that remember the SCH-W2013, or theJackie Chan flip phone, will know that practicality isn't reallya concern for Sammy. Nor is price, for that matter – the SCH-W2013cost about $3000.
source: Tenaa via Ameblo,TheDroidGuy