Samsung to produce Huawei's Kirin chips?
35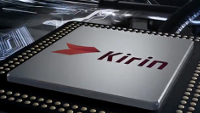 TSMC reportedly agreed to build Huawei's Kirin chipsets using its 16nm FinFET process. But now it appears that Samsung has interjected itself into this deal, and it is unclear how this will play out. What Samsung brings to the table is its 14nm FinFET process. In theory, the smaller the process size, the more power efficient the chip becomes. Of course, there are other factors involved, which explains
why the 16nm Apple A9 chipset built by TSMC seems to support better battery life
than the 14nm Samsung version of the same chip. Samsung has used the 14nm process to produce the Exynos 7420, which is the powerhouse inside phones like the
Samsung Galaxy S6
and
Samsung Galaxy S6 edge
.
Samsung's offer to produce Huawei's Kirin chipsets is no different than the arrangement it has with Apple. The latter designs the Ax chipset for the iPhone and iPad, and Samsung produces the chip in its foundry. And TSMC is once again the rival that Samsung is facing in its attempt to garner this business from the smartphone manufacturer.
What will Huawei decide? Will it keep the deal it supposedly has with TSMC, or will it go with Samsung? Based on what is happening with the
Apple iPhone 6s
, Huawei fans are probably hoping that it sticks with TSMC.
source:
AndroidHeadlines