Samsung-made A9 vs TSMC A9: benchmarking two iPhone 6s versions yields surprising results
63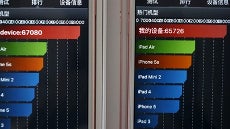 Apple has hedged its bets with the
iPhone 6s
A9 chipset suppliers, tasking both Samsung and TSMC with its production. The two foundries, however, use different production methods. Samsung utilizes the class-leading 14nm FinFET die shrink, while TSMC is on the 16nm process, again of the stacked FinFET variety.
In case you are curious how would an iPhone 6s version powered by the Samsung-made 14nm A9 perform against one with a 16nm TSMC A9, someone has already sourced two such handsets, and ran AnTuTu on them a few times in a row to determine if there is any gap in performance.
Surprisingly enough, the difference is in favor of TSMC's A9, which scored slightly higher on average, compared to the 14nm Samsung-made A9 in the other iPhone 6s. That's not all, though, as the 14nm A9 chipset also ran a tad hotter during testing, and consumed a tad more battery with identical load scenarios, and evened-out display brightness on both phones.
In any case, the impromptu results indicate that the 14nm and 16nm die sizes are so close to each other, that their performance overlaps, and the 16nm even pulls a bit ahead. You can stop worrying what exactly kind of A9 is in your new iPhone, though, as they are both crushing the benchmarks anyway.