Samsung to attack the tablet market early 2014 with 8" and 10" Super AMOLED displays
16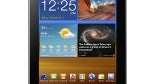 AMOLED displays, of Samsung fame, don't have a backlight like the LCD ones, but are rather using the photons that each pixel emits itself. Those organic diodes that comprise OLED displays, have been mastered by Samsung and LG to the extent that they have TV panels made out of them, so why not tablets, too?
Until recently it was tough and cost-prohibitive to make mid-size OLED screens in the 8-10" range, so Samsung focused mainly on phones and TVs for commercializing said technology. The tables have turned, it seems, as Korean media is reporting that Sammy is preparing to launch premium 8" and 10" slates with Super AMOLED screens.
Samsung already had the
Galaxy Tab 7.7
introduced with such a display, which was quite ahead of its time, sporting a 196ppi OLED screen, and high-end metallic chassis. It was more of a proof of concept, though, while now the Koreans are allegedly
very serious about their tablet efforts going into 2014
, given the success of competing brands, and the general user switch to tablets, which is expected to explode. Thus in Q1 next year, claim the sources, along with the
Galaxy S5
and
four other phones
, Samsung is also said to release a few tablets sporting high-res AMOLED displays.