Samsung to appeal the pan-European ban on its Galaxy Tab 10.1 sales August 25
31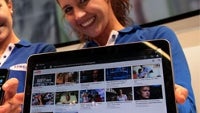 Apple succeeded in throwing the
Samsung Galaxy Tab 10.1
march in Europe
off-track the other day
, but Samsung isn't sitting still. It intends to appeal the Regional Court of Düsseldorf decision to ban the tablet from sales in EU countries, and the hearing is scheduled for August 25.
The pan-European ban has been Apple's greatest success in the patent war against Samsung so far, but, according to German law, if its case doesn't have enough merit in court, it will pay damages to Samsung for missed business.
Samsung did change the design of its
Galaxy Tab 10.1v
tablet completely after the iPad 2 was introduced, though, so maybe that has tipped the scales for the German court. On the other hand, its decision basically
awards the whole European tablet market to Apple
(the
Motorola XOOM is also under fire
), which should raise some eyebrows with antitrust regulators.
Samsung is facing an "
administrative fine
" of undisclosed amount, if it continues its marketing and sales activities with the Galaxy Tab 10.1 in Europe. So, throughout this impasse, Samsung will be losing money on potential sales, and the ban will leave a lot of people, who are split between the Samsung Galaxy Tab 10.1 and the Apple iPad 2, going for the iOS tablet. Apple has more than enough tablet market share to aim only for that - a lot of analysts are pointing out that this is just one step in its uprising against Google's Android domination.
source:
WSJ