Samsung takes the top spot for 2012 cell phone shipments, Nokia 2nd, Apple 3rd
38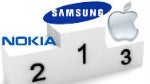 The numbers are finally starting to come out for the mobile ecosystem, even though 2012 isn't quite over yet. IHS iSuppli has released its estimations for which cell phone manufacturers shipped the most devices in 2012, and
for the first time in 14 years, Samsung has taken the top spot in cell phone shipments
, pushing Nokia to 2nd place, and Apple held steady in 3rd place as far as total cell phone shipments, and 2nd in the smartphone segment.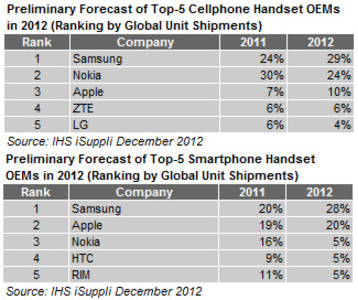 According to the data, Samsung is expected to account for 29% of global cell phone shipments in 2012, with Nokia at 24%. This is almost a perfect reversal from last year when Nokia had 30% of cell phone shipments and Samsung had 24%. Impressively, Apple takes 3rd place on total cell phone shipments with 10%, even though Apple only makes smartphones, and no feature phones, unlike Samsung and Nokia.
On the smartphone side of things, Samsung retains the top spot with 28% of global smartphone shipments, and that extends Samsung's lead over Apple, which held 20% of smartphone shipments. Last year, Samsung had 20% compared to Apple's 19%. The smartphone side also shows how Nokia lost its overall lead as it dropped from 16% of smartphone shipments in 2011 to just 5% in 2012. HTC and RIM also came in at 5% of smartphone shipments this year.
The data also shows the general trends continuing to move towards smartphones. Global smartphone shipments are expected to rise by 35.5% for 2012, while overall cell phone shipments will increase by just 1%. This push by smartphones is expected to lead to 47% of the total cell phone shipments to be smartphones, which is up from 35% in 2011.