Samsung takes the Apple fight to the streets with new Galaxy Tab S vs iPad advert
31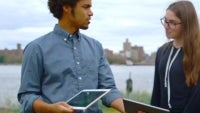 Samsung has taken its fight with Apple to the streets. The latest Galaxy Tab S advert shows how random passersby are presented an iPad Air and a Galaxy Tab S and are asked for their opinion - which one's better. Of course, Samsung is showing only those responses that praise their product and portray it as better than Apple's. Everyone has their taste, of course, and we think that Samsung's new Galaxy Tab S 8.4 and 10.5 tablets are fantastic Android competitors to the iPad.
It makes sense for Samsung to be more aggressive than ever with its advertisements, as that time of the year when the media and consumer space are preoccupied with Apple's latest product approaches. Besides, every major technological vendor is looking to boost the hype around its products ahead of the annual IFA event in Berlin.
Competition will be strong this year, and Samsung is gearing up to defend its market territory with a
successor to the Galaxy Note 3
, a new
Gear smart-watch
, and (quite possibly) its first
virtual reality headset
. The best is yet to come!
So, if someone on the street asked you to compare the Galaxy Tab S and the iPad Air, what would you say?
via
RedmondPie