Samsung subtly reminds Apple that its Galaxy Notes had stylus pens way before the iPad Pro
52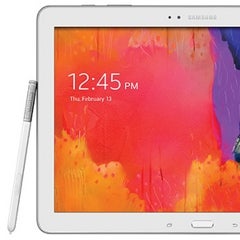 Apple today unveiled a new product that, many years ago,
Steve Jobs saw as being useless
: a digital stylus pen.
Called Apple Pencil, the stylus is made for the
iPad Pro
, which was
announced mere hours ago
as Apple's largest tablet ever (sporting a 12.9-inch display with 2732 x 2048 pixels).
Of course, stylus pens are nothing new, though we'll all have to agree that, in the last several years, Samsung was the company that made them quite popular by selling tens of millions of Galaxy Notes around the world. Samsung even has a Galaxy Note tablet that's somewhat similar to the Apple iPad Pro: the
Galaxy NotePro 12.2
, which features a 2560 x 1600 pixels display (plus, of course, an S Pen stylus).
Earlier today, immediately after Apple announced the Pencil, Samsung took to Twitter to subtly remind the Cupertino company (and the world) that its S Pens have been available for quite some time, by tweeting: "Ummm… S-Pen #SoundsFamiliar." Sure enough, there are significant differences between Samsung's S Pen styluses and the Apple Pencil, including the fact that Samsung's pens come nestled inside Galaxy Notes by default, while the Apple Pencil needs to be purchased separately for $99. Ultimately, though, both the Samsung S Pen stylus and the Apple Pencil serve the same purpose: allowing users to get more work done faster, and/or to be creative.
What do you think of the Apple Pencil and the iPad Pro thus far?
source:
Samsung Mobile UK
(Twitter)